Some resources relating to the Ilmington tradition:
On the Web are:
Not on the web (to my knowledge) but on the CD-ROM version of Keith Chandler's "Morris Dancing in the English South Midlands 1660-1900" are:
information on records of pre 20th century performances in Ilmington and of dancers from Ilmington in the "Chronological Gazetteer"
an article, "Ilmington Morris Dancers : The Revival of 1908". There is evidence of morris dancing in Ilmington during the late 18th century, followed by a revival from about 1805 to about 1852, then from about 1858 to 1867, then from 1886 to about 1890, then in 1897, then from 1908 to about 1913, then a few more times in the 1920s and 1930s, then from 1974 to present. From that article, here is a picture of the 1908 side: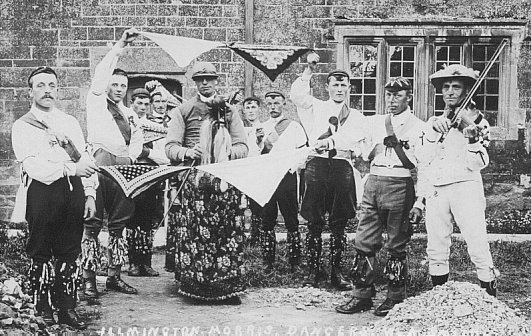 "Ilmington Morris Dancers, circa 1908. Left to right Henry Bennett, Robey Rouse, John Cook, Joseph Aston (fool), Josh or Joseph Terry (hobby horse), John Terry, Thomas Newman, David Westbury, John Newman, Samuel Bennett (musician). Photo courtesy Vaughan Williams Memorial Library."
Notice the definitely not white hankies!
On the PaperWeb(R), there are:
description in Sharp's Morris Book, Part I, second edition
summary in Bacon's Handbook of Morris Dances, of course
two short writeups in Roy Dommett's Morris Notes
I haven't found any articles specific to Ilmington in the American Morris Newsletter. There may be some in Morris Matters or one of the other publications.
Community content is available under
CC-BY-SA
unless otherwise noted.