| | |
| --- | --- |
| Location: | Syracuse, New York, USA |
| Dances: | Border: composed dances from the Bassett Street Hounds, Red Stags Morris, Shropshire Bedlams, and New St George |
| Organizations: | |
| Active: | 1985 - present |
| Contact: | Susan Galbraith |
| Web site: | Bassett Street Hounds |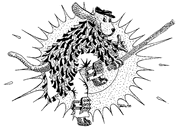 The Bassett Street Hounds were established as a men's Cotswold side in 1985 and danced, over the next 10 years, dances from the traditional English sides of Adderbury, Bampton, Headington, and Oddington. The Hounds added a few traditional border dances to their repertoire in 1988, after seeing them performed by Lake Effect Morris in Rochester NY, and then, a few years later, dances learned from a member of the Southampton (UK) team, Red Stags Morris, who was living in Syracuse at the time. By 1995, their repertoire was evenly divided between Border and Cotswold.
In 1996, the team went mixed and became a full-time Border side. The Hounds now predominately dance their own composed dances (and many of them are described on their website). Hounds' dances have been performed by other border morris teams throughout northeast and midwestern United States and Canada.